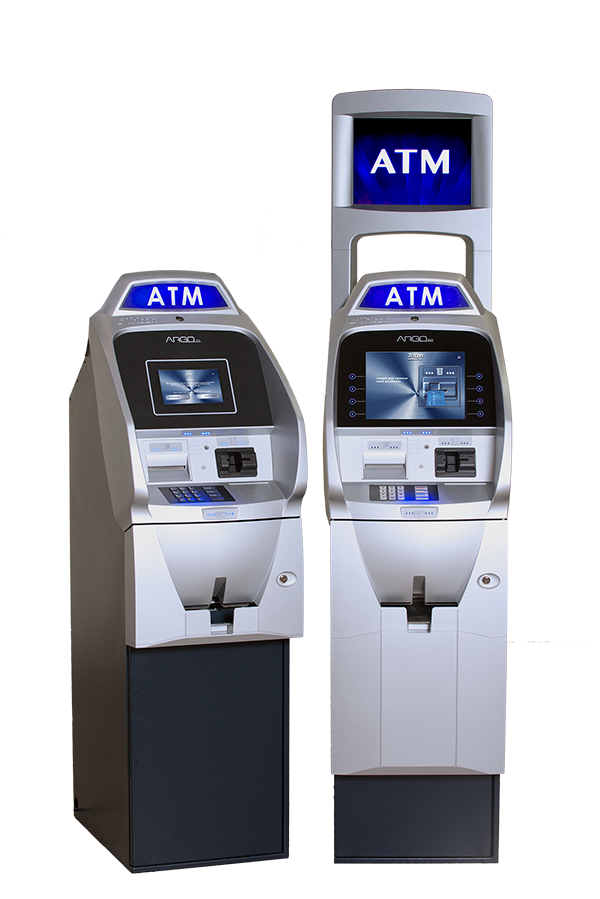 Triton Argo 7D Series ATM Machine
CDU
No Dispenser (No Mech)
Genmega SCDU 1,000 Note Removable Cassette
Talaris SDD 1,700 Note Removable Cassette
Genmega THCDU Two 1,700 Note Removable Cassettes
Talaris NMD 50 Two 2,000 Note Removable Cassettes
Lock
Dial Lock
Electronic Lock
Cencon Lock
Topper
Integrated Topper
High "Get Cash" Topper
Card Reader
Standard Dip-Style
Dip-Style EMV
Motorized EMV
Printer
60mm Graphics Printer
80mm Graphics Printer
ECO (No Printer – TCPIP or Wireless Communication Only)
Valut
UL291 Business Hours Vault
Level 1 Vault
LCD
7.0″ Widescreen Color Touch LCD
ARGO features an updated, next-generation design with added elements of security, larger screens, and easier-to-read keypads or touchscreen options. For the first time in industry history, models are now available in an eco-friendly, printer-less model, reducing each machine's carbon footprint and resulting in cost savings over the life of the machine. New updated design features larger wings for added PIN security, improved dispenser security, touchscreen options, and blue LED-lighted keypad for easy-to-read transactions.
Powered By Triton TDL™ Software
Windows® CE Operating System
7″ Wide Touch/Color LCD
UL291 Business Hours Safe
60mm Graphics Printer
Dip-Style Card Reader
Dial-Up & TCP/IP with SSL Ready
Dial Lock
Integrated Topper
12 Month Warranty
2012 ADA Standards Compliant
One Roll of Paper